Exceptional HVAC Service Since 1977
American Heating & Air Conditioning, Inc. is proud to be a family-owned business serving homeowners and business owners. Since 1977, we have provided exceptional solutions to our clients. We are also proud to be an Heil HVAC Elite Dealer, although we work with all brands of HVAC equipment.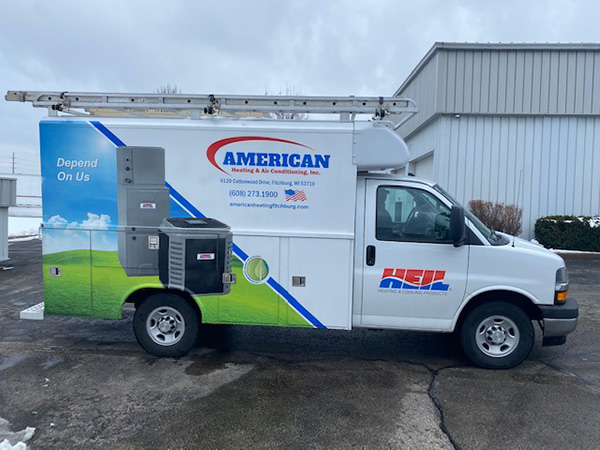 Meet the Team
John Mackesey, Owner
Born and raised in Madison, Wisconsin, John starting working at the early age of 13, cleaning a sheet metal shop. He began working for Action Heating and Air Conditioning at age 19. John became co-owner of the company over 30 years ago, and took on full ownership in 2013. In 2016, John changed the name of this company to American Heating & Air Conditioning, Inc. In 2021, he brought his son, Brandon, on to co-own the business.
Brandon Mackesey, Owner
Brandon was born into this company. He grew up cutting tin and putting together dampers. He worked at American Heating & Air Conditioning, Inc. during every school break and over the summers throughout college. While he did leave the company to pursue a career in transportation engineering for eight years, Brandon has decided to come back to his roots. He joins his father as co-owner and brings his business and engineering degrees and knowledge to the company.
Marilyn, Office Manager
Having been with the company since 1998, Marilyn is the first voice you will hear when you call American Heating & Air Conditioning, Inc. She can help you with any and all of your HVAC service questions and concerns. As a professional multi-tasker, she simultaneously keeps track of all the guys, schedules your appointments and keeps the office running smoothly.
Tim, Vice President
Tim has been with the company for over 30 years. He spends a good portion of his time coordinating multi-family apartments. He does a lot of the estimating for jobs and specializes in remodels and residential projects.
Carl, Shop Manager
Carl comes to American Heating & Air Conditioning, Inc. with 20 years of HVAC experience. Carl custom-makes all the ductwork for clients as well as flashing and architectural metals for every job.
Gary, Finish & Remodel Foreman
Having been with the company for over 20 years, Gary is a finish and remodel specialist. He's the guy that figures out how to get you cool quick or warm fast when you're without a functioning air conditioner or furnace. He does most of the finishing work on all the jobs. He also does basement finishing and specializes in custom kitchen hoods.
Dave, Commercial Specialist
Dave has been with American Heating & Air Conditioning, Inc. for over 10 years. He can take care of all your commercial HVAC needs and has expertise in the installation of new units and replacement units. He is also the specialist for zone systems and Wi-Fi thermostats.
Roger, Service Technician
Roger has been with the company for five years. He troubleshoots, repairs, maintains and installs HVAC and related equipment. He makes house calls when your furnace or air conditioner isn't working. He is very talented at keeping our customers happy. He also does residential and commercial HVAC maintenance.
Contact Us Today
Get in touch with American Heating & Air Conditioning, Inc. for your proposal today. Call us at (608) 273-1900 or let us know how we can help with your HVAC service through our contact form online.